This year's London Design Festival was upon us before I realised how out of the loop I was… normally I would be part of things, exhibiting in our usual Rivington Street gallery in Shoreditch, but being on maternity leave meant I was free to go and visit places. So one afternoon last week I went with a couple of other design-oriented mums to see designjunction which was in Granary Square in Kings Cross this year.
We stood in the street, buggies and all, looking for Cubitt House, the exhibition space, and somehow couldn't see what was right in front of our faces…  the temporary exhibition structure had been clad in an intriguing scaffolding (above left) which created a kind of urban camouflage integrating the trees lining the road. I later found out this was a special facade which had been commissioned by designjunction from Satellite Architects but it had the effect of making the building
strangely invisible to our baby-addled brains!
Design companies often go to great lengths to create temporary installations just for London Design Week and this year my favourite was the stunning lighting installation in the Central Saint Martins building by French lighting company Blackbody (above right). I'm a sucker for a sparkling canopy of light and this was spectacular.
But 'Best in Show' undoubtedly went to our lovely friend and superb furniture designer
Bethan Gray
, whose stand we dropped in on. I've always loved her style, but her new collection is a showstopping culmination of everything else that she has so far designed under her eponymous design label. Her signature style, which brings together a love of materials with fabulous detailing, was expressed in a delicious palette of rich teal, salmon pink and midnight blue.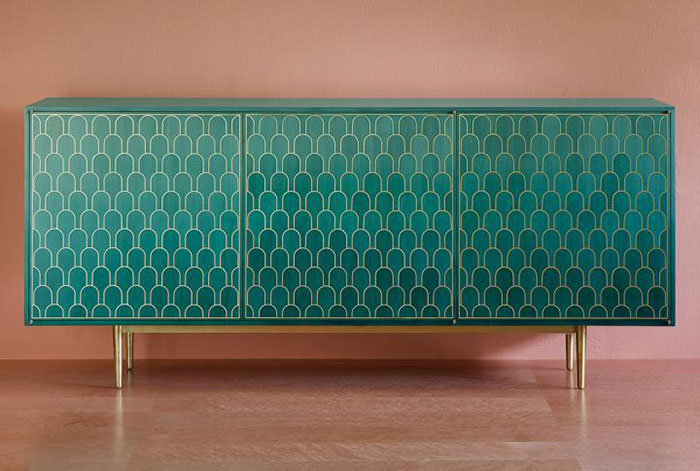 Her latest collection is a collaboration with Iranian artist Mohammed Reza Shamsian who has spent many years crafting unique pieces for the Sultan of Oman. Bethan's husband, Massimo, told me how the biggest hurdle in the production process was not the fabrication – in fact the collection was created from sampling to launch in an unbelievably quick five months – but the packaging. I guess if you supply the Sultan of Oman, your furniture goes straight from workshop to palace and packaging is not really a consideration! Massimo explained that the packaging problem was solved by putting each piece in its own soft fabric bag – and I just love the idea of a piece of furniture coming in it's own velvet pouch like a precious jewel.
My favourite piece was the Nizwa cabinet, made of maple wood marquetry in a teal ombré with an overlay of solid brass. It is absolutely stunning and I want one!  I can't wait to see what Bethan comes up with next.