The Dulwich Open House put me right in the mood for visiting some more creative spaces and so last weekend I trekked up to Clerkenwell to look around the many studios open for the Made in Clerkenwell event at
Craft Central
. I've been a member of Craft Central for many years but I'd forgotten just how many floors there are across the two Victorian buildings as I've never made it all the way round this event in one go.
I'd also forgotten how many jewellers there are at Craft Central, which I think is a leftover from the days when the organisation constituted a group of jewellers known as the Clerkenwell Green Association before its rebranding as Craft Central. There was plenty of beautiful jewellery to look at and try on in the warren of studios lining the corridors of Pennybank Chambers. My favourite was the elegant geometric designs by Myia Bonner of
Myia
which were on display right opposite the bench on which they were made.
I always find creative spaces fascinating and as much an expression of their owners as the creations that are produced within their four walls. Neat and organised, random and empty, or packed to the gills with stuff, these are all the quirky working spaces from which emerge all manner of creative products. Sadly Craft Central will be closing the doors of its two Clerkenwell buildings next year as the landlords are selling off the site to the inevitable property developers that always seem to turf out the artists in every area in London. Some makers have worked from these studios for many years and are now being uprooted.
Sarah Herriot
(above right) described how the tree outside her studio did not even reach the window when she set up her studio here 14 years ago; the greenery is so prolific now, one would think the studio was somewhere in the countryside.

Sarah Hocombe is another artist who has been painting in her studio at Craft Central for many years but she is thinking about setting up at home. As an occupant of one of the few studios at Craft Central which has a window at street level, she has had a few commissions which came about from clients seeing her intriguing painting as they passed by outside. She had painted small egg tempera frescoes on fragments of bricks which were laid out in display cases as examples of her work.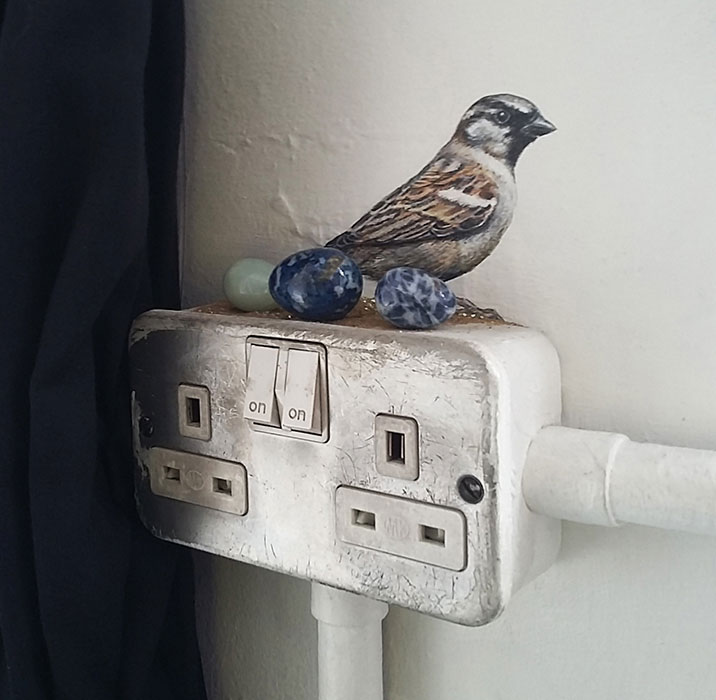 I also spotted a little detail of a mural bird who looked like it had laid three real eggs on the electrical socket. It's desperately sad to think these little signature details will all be wiped out to make way for apartments for bankers wanting to acquire some Clerkenwell cool.