I spent last week down in the beautiful surroundings of West Dean College for my annual Summer School sojourn. This is a week-long course which combines both fused glass and leaded glass and, as I always tell my students, it is challenging!
There are always a few problems to overcome when trying to fit a slightly distorted, rounded off shape made from kiln formed glass into a jigsaw-like leaded panel which requires meticulous accuracy. Usually there is some kind of trade off  – a slight deviation from the cutline or a bit of 'creative interpreting' (otherwise known as botching!) – but in fact my students this year managed very well with what were fairly complicated panels.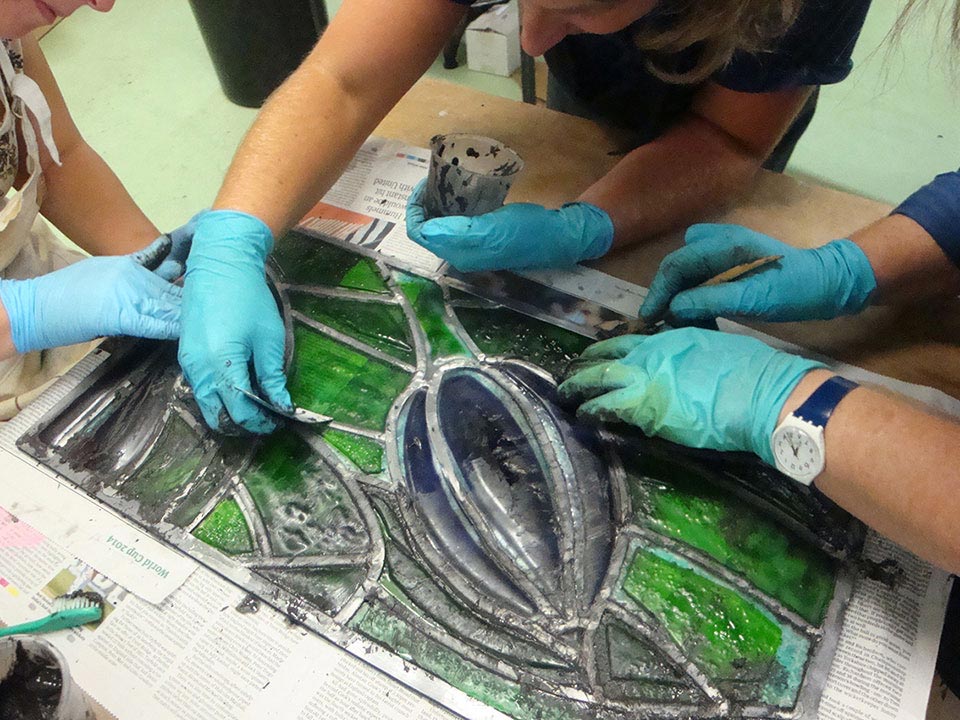 We had a range of approaches, from heavily detailed kiln formed textures to panels which only used a touch of fusing or slumping to achieve an interesting surface. The students worked incredibly hard, and there was some additional teamwork to get one or two of the panels finished on time. At one point I counted four pairs of hands working in combination to cement a panel, including my hands which took a brief break in order to take the photo above.
And what was the rush? Well, it is a long tradition at West Dean's Summer School that the final evening is for a celebratory party. Each group usually creates a set of masks or hats or some such creative endeavour to mark them apart from the other groups during the party. But my students had worked so hard it seemed churlish to expect them to make anything more, so instead we went to the party dinner in our (clean) blue surgical gloves… the Blue Hand Gang!
Friday morning was the wonderful moment when we held the eight beautiful panels up to the light to finally see what everyone had produced over the course of the previous six days.
Just as much enjoyment was had by wandering around the college to see the work that had been produced on other courses.This year our neighbouring workshop was filled with amazing wooden automata by the students of Robert Race (below left). Each piece turned or moved back and forth in its own uniquely humorous way and we were amazed to see some students had produced five or six diffferent toys.
Up the stairs to the drawing studio and we came across beautifully conceived books made by students on Freya Pocklington's 'Creative Drawing' course (top right). Wormholes and ragged edges made an appearance in various pages to show glimpses of the page beyond, and every one of those books made me want to create a little treasure of my own.
Downstairs in the courtyard was an installation created by resident poet Gary Goodman (bottom right). This had been growing across the course of the week and students had been intrigued to read the new phrases that were being added over time.