Glass is a difficult medium in which to work. I am often left feeling envious after watching my neighbouring makers at trade shows who seem to set up their stands in about a quarter of the time I do and with a lot less hassle. Glass is heavy, bulky and fragile and frustratingly it requires pale surfaces and good light to make it looks its best, so displaying glass well often involved bringing one's own plinths and lighting.
So I thought it would be interesting to learn a bit more about display and I attended a two day course at Craft Central with Diana Furlong who was as a Senior Window Dresser at Harrods for many years and has worked extensively as a lighting technician in West End theatre. She has a wealth of experience in devising and installing eye catching, effective displays.
And yet once again I found myself wishing I had been drawn to a different medium! I watched as Diana did what she knows best and came up with a multitude of different ideas of displaying and styling the products that the other participants had brought. We all learnt a lot about placement of objects, the use of colour backdrops, creating little scenes with props and how to make stories through all these techniques to help sell the product. There was so much possibility for different styling with the jewellery, scarves and cushions that the other particpants
However when it came to my products, it became clear to me that there wasn't much I could add to style these in a similar way without it becoming a distraction. Diana did not give up, however, and she created various lighting schemes for my Sapphire Bejewelled Bowl, illuminating the bowl from underneath and behind and creating colour washes with lighting gels to see how to display it best.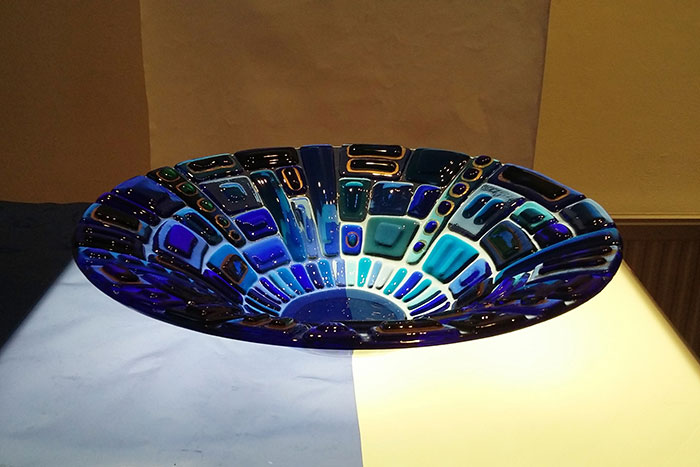 Much as I would have liked to have to be able to style and accessorise my products in the same way that everyone else had, I realised that when it comes to my glass, keeping it simple is probably the way to go.